About
Us

we are the foremost civil repairs, rehabilitation and painting contractors based in Mumbai, executing works all over India.

Activities
TECHBUILD is involved in a number of construction linked activities 

Rehabilitation, Restoration & Repairs of structures, Corrosion Control, Structural Repairs, Restoration of Heritage Structures, Guniting, External Finishes, Waterproofing, Facade Restoration, External & Internal Painting, Elevational Treatments, Structural upgradation by high tech system of Carbon Fibre Wrap etc.

TECHBUILD was formed in the year 1995, company with over two decades of experience in Mumbai and across India.

Our
Team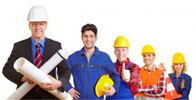 Our Consultant team is one of the most skilled and experienced.
The responsibilities of, and expectations from each member of the team is clearly communicated enabling a singular vision and tight focus that pervade through and form the entire spirit of the organization